January, one of my favourite months. Blue skies, crisp mornings, beautiful sunrises/sunsets, starry skies. It's my "take it easy" month and without all the hype we read about in the press and social, it is a good reset month. For me that means catching up with all the boring house jobs I've been putting off and far more importantly all the film and box sets I've been wanting to watch. 
January is a great month to travel. Last year I visited beautiful Florence in January and Venice in February. The weather was beautiful and there were very few tourists. I'll come back to both another time but suffice to say January is a great time to visit European cities that in summer are typically heaving. 
For now let's talk all things Morroco. My love affair with Morocco started when we launched the personalised baskets and sourced many of our early designs in Souks of Marrakech. I remember my first trip to Marrakech. I travelled with Mum and both of us walked in eyes wide closed. So, from experience, a little housekeeping....
1. It's chaotic and can be very crowded. Be prepared.
2. Don't trust any man (women rarely engage) that offers advise or help without being asked and more importantly if you ask for help be prepared to tip.
3. Barter even when they say it's their best price. 
4. Avoid eye contact or engagement with salesmen unless you are serious about buying.
5. Buy a SIM card when you arrive at the airport. Many kiosks in the arrivals hall. It's cheap, around £3  (have cash for this as they don't accept card) and worth every penny as data runs out so fast with so many UK providers. You may need your phone navigation. 
6. The Medina is very easy to get lost in. From experience, all roads lead to the square.  Jemaa -El- Fnaa. I would suggest you start and finish your souk visit there.
7. Jemaa-El_Fenn is buzzing and great fun BUT do not hold the monkeys or snakes if invited. They make it seem like they are gifting you and then demand payment and it can be vey uncomfortable.
8. Engage with the locals, even with a smile. They are really friendly. 
9. Do not walk in the Medina late at night alone - it's dark and not easy to navigate in the dark.
10. Do not drink the tap water.
11. Print boarding passes on departure. They do not have the facility to scan from phones.
12. Departures can be busy, leave time to get through security and passport control.
With that sorted, let's discuss where to stay. I have stayed in Riad's and Hotels. I often travel alone and before getting to know Marrakech I found staying in hotels safer as I wasn't confident walking in the Medina at night - mostly fear of getting lost. I should say Marrakech feels pretty safe so don't be alarmed. Today I I much prefer to stay in a Riad however there are masses of excellent hotels. Most of the luxury chains have hotels Marrakech. My suggestions would be:
Mandarin Oriental, La Mamounia, Royal Mansour, Four Seasons, Sofitel.
My favourite, to date, is  El Fenn. It is owned by Vanessa Branson, sister of Richard  and is UNSPEAKABLY chic. https://el-fenn.com The shop is wonderful, the roof top bar and lunch an absolute must.
Riad's are hidden away. The thrill and amazement as you walk down dark alleys, all doors looking the same and you get to the door of your chosen Riad, the doors open and you'll be amazed at the beautiful spaces. Each one different, each one with its own character.  You'll be utterly blown away. My favourites, all differing budgets:
Riad Olema & Spa https://www.riadolema-spa.com Small, clean, lovely staff. I've stayed here a few times and would definitely recommend.
Riad Abracadabra https://www.riadabracadabra.com They also have a country hotel which looks beautiful  and is 20 mins outside the city - Casa Abracadabra https://casaabracadabra.com/en/  I just stayed here and it was very excellent.
La Sultana - very beautiful https://www.lasultanahotels.com/marrakech  Very beautiful and regarded as one of the high end properties.
One to "watch this space", Riad Izza - opening late spring. I visited last week and it is exceptional. Very very unique. Much of the design inspired by the legendary Bill Willis https://www.billwillis.com More about Riad Izza another time. It lends itself to its own blog post. Follow on instagram for updates on the opening @izzamarrakech
Beldi Country Club, about 15 mins outside and it is very special. I stayed there just as they open post Covid and I had a disappointing stay however I think it might just have been the time I stayed. I have gone back since  for lunch and it was wonderful. Good shopping also. https://beldicountryclub.com
Jnane Tamsna A stunning Boutique Hotel about 20 mins outside Marrakech is amazing and an idea might be to do a a few nights in the centre and then escape to one of the hotels on the outskirts  https://www.jnanetamsna.com
To save time, this Times feature is very good!
https://www.thetimes.co.uk/travel/destinations/africa/morocco/marrakesh/best-riads-in-marrakesh
I should add that most Riad's have roof top terraces, many with pools and sun loungers. Bring your bikini!!
Food
There are so many fantastic places to eat. These are my favourites:
- Delicious Moroccan food (dinner) : The Moroccan Restaurant at La Mamounia or "a la carte" at Al Fassia 
- Kechmara - very well known for lunch in the New Town (burgers, salads and daily specials) - but less well known for its very stylish hidden roof terrasse gets very lively in the evening now with cool music and locals drinking at the bar. Great with kids too at lunchtime for burgers.
Kabana - Roof top Bar and restaurant. Very lovely atmosphere
- Glamourous : early drinks at La Mamounia or Royal Mansour
- Nomad - Excellent. Gets v busy so book in advance.
- Le Café des Epices - One of my favs, again book in advance
- Le Jardin. Cool spot for lunch and great for dinner in the middle of Medina.
- La Trattoria : beautiful decor. Good Italian food. Love going there for drinks. New Town.
- La Famille : delicious vegetarian fresh food - only open for lunch - great boutique corner too.
- Naranj
This smart Lebanese restaurant is done out in 
khamsa
 (hand-shaped amulets), stripy textiles and hand-cut lanterns and wouldn't look out of place in downtown Beirut. 
- Dar Yacout  This fabulous traditional restaurant is set in a gorgeously decked-out riad deep in the north of the medina. It was one of the first addresses in these parts to offer a multi-course gastronomic Moroccan diffa (feast) for a set price and 20 years on it's lost none of its shine. Take aperitifs on the panoramic roof terrace, 
- El Fenn Excellent. Great food and service. Very chic.
- Dar El Bacha  
Founded in Marrakech in 1910, the first Bacha Coffee is still housed in the spectacular Dar el Bacha Palace.
Filled with carved and painted cedar wood ceilings, saffron-stained porticos and beautiful zellige mosaics, it is a lavish setting where guests are invited to linger over coffee and conversation. AN ABSOLUTE MUST! Good shopping nearby.
If you do nothing else go for coffee - it's a truly lovely experience. You'll see what I mean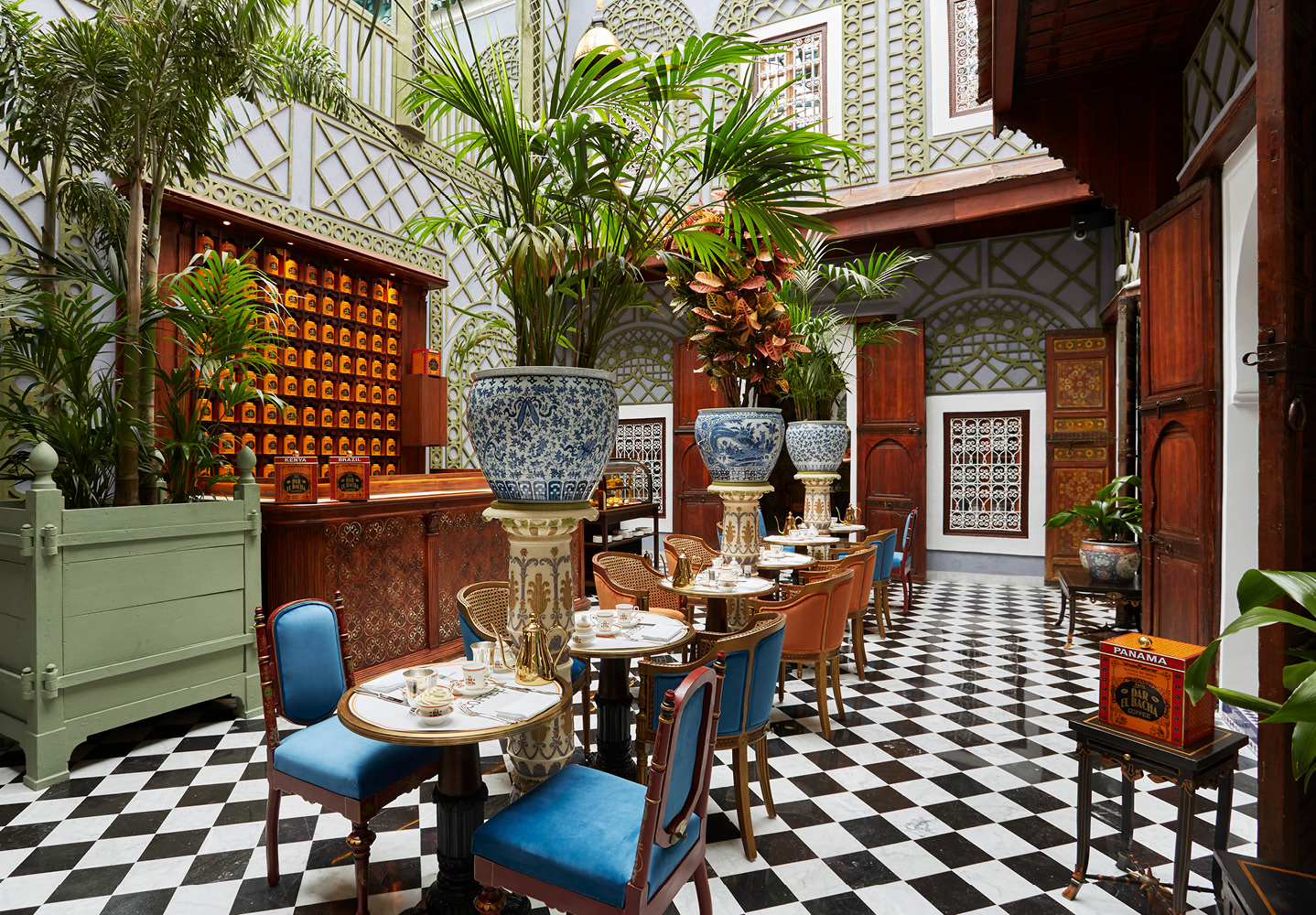 Shopping 
- MEDINA/SOUKS (open every day)
Medina shopping : DAR EL BACHA : nice area in the souks. Stop at Dar El Bacha palace by car then walk from there. On the left : A MUST DO : Mustapha Blaoui's shop for the most beautiful homeware
then walk the opposite side towards Souk Cherifia/Terrasse des Epices (on the way stop at Topolina boutique)
Get lost in the Souks... buy leather belts and "K-Jacques" style sandals  , leopard slippers, old kilim pillows, wood kitchen stuffs, straw bags... leather poufs because they can be fold !!... etc... see my tips to bargain : 
Stop for coffee at Le Café des Epices on the Spice Market, buy colorful hats for kids
Nice Rugs : 
-
www.kulchi.com
: in the Medina. Very private. By appointment only through her website. Beautiful Prints and Rugs
- Sofiane : trendy, colorful, chic rugs
- Berber Loom : good value fashionable boucharouite rugs.
NEW TOWN : 
RUE DE LA LIBERTE (shops open monday to saturday - but closed 12.30-3.30pm!) 
Place Vendome : for great leather wallets for men - always hard to find gifts for men - the is THE place. Nice belts and men's leather goods
Ben Rahal : beautiful rugs
Madame Alami : great Moroccan patisserie
L'Orientaliste : for amazing perfumes and candles (Fleur d'Oranger is divine - great gifts)
Atica for shoes
Moor & Akbar Delights : very stylish tuniques and homeware
Michèle Baconnier : jewelry and summer indian dresses and sarongs
David Bloch gallery : for art
Atelier Nihal : for hanvowen textile 
Scenes de Lin : stylish homeware
near Rue de La Liberté:
Lalla - 35 boulevard Mansour Eddahbi (near Bab Hotel) open 10-7pm non stop . MY handbags boutique !!
ART/C - one of a kind great unique pieces 
Kaftan Queen - for great tuniques @ beach kaftans
La Galerie des Tanneurs - for leather 
HDWVN : American textile Designer Randall Bachner new brand. By appointment.
- MAJORELLE (open every day 10am-6pm)
In front of Majorelle gardens : shopping at 33 Majorelle, concept store in front of Yves St Laurent Gardens (buy new label called Chabi Chic - kitchen ware & ceramic = very nice)
on the side street : beautiful rugs at ANITAN - Faiza Lahlou
Corinne Bensimon - bespoke and trendy homeware
- INDUSTRIAL AREA (open monday to friday, some showrooms by appointment)
Best to do in the morning (not nice area/ go on 2 hours mission ! then back to the pool ;-) )
FENIYADI: Candles, bedlinen and ceramic Feniyadi is still there for Amira candles, Vianotti bedlinen and Akkal ceramic
TUNIQUES :Le Dressing de Stella for nice summer tuniques (next to Feniyadi)
Les sens de Marrakech (for argan oil products and nice soaps)
BEAUFITUL HOMEWARE : Magasin General - very stylish selection of furniture, linen and objects. Very colonial chic.
Hammam 
Hammam - do not miss out on having a Hammam experience. Your skin will feel brand new!
www.riad-elisa.com/spa (a bit more expensie but with awesome facilities) www.lesbainsdetarabel.com is the best one but the most expensive. www.lebainbleu.com
I should also add, there are some great tours you can take. Hot air balloon trips, Atlas Mountains, Lunch in the dessert. Day trips to other cities by train. I did a day trip to Casablanca which was really interesting.
A few years ago we did a shoot in Essouria on the coast - again beautiful and well work a visit.
I hope you find this useful. Do ask  if you have any questions. 
Enjoy!!!
Lots of Love!
Rae xxxx