How did that happen... it's December!! Literally it seems like a blink since it was September and the kids went back to school. We shouldn't wish our lives away however, 2020 is a year many will be happy to put behind them. Everyone has their own story to tell. High's and low's of the last months, some very very warm memories and I, some very very sad memories. Living in the moment ready for the Festive season. Never before have I felt so festive so early. In my little village, people have had lights up since mid November - mine will hopefully go up  this weekend. I'll send some pics of the Old Post Office.
Look at these cuties - little handmade love hearts for the tree. I found them on Etsy from a little Lithuanian brand called Linen Forest.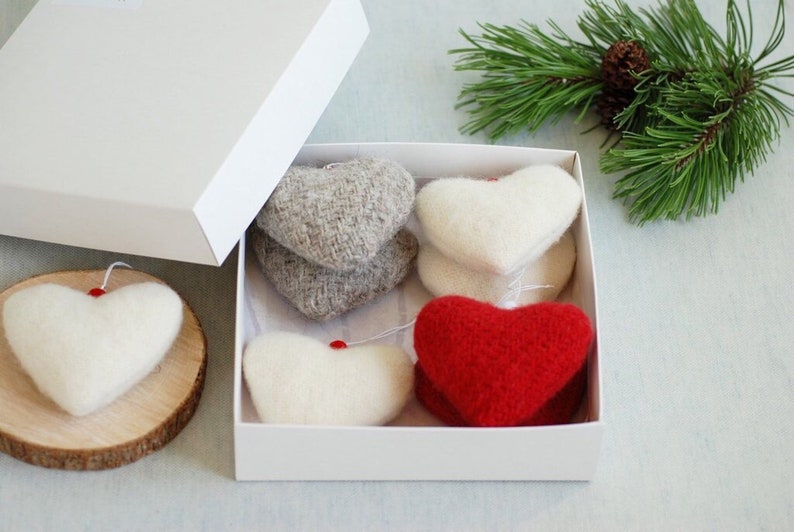 Anyone looking for inspiration, I've also been on Pinterest and come up with a few ideas on original decorating. Check out this link.  
Whilst lockdown has eased a little, I'm guessing none of us will be going very far. With that in mind, I've picked my favourite pieces that I will wear on repeat over the holiday period. 
By now many of you know that comfort and versatility is at the heart of everything we design. Ever since I was a little girl my Mum says I pulled my tights down to sit on my hips as I couldn't stand anything tight around my waist. For sure, I like a little shape but nothing restrictive or clingy.
First up, our Organic Hareem Pant
It can be dressed up or dressed down. Its great with the Organic Alice Hoodie or my favourite the Organic Boyfriend Hoodie. We have just recently received another delivery of the Organic Tee (packs of 2 £50). 
Obviously I won't be without our Nordic Socks which have been a huge hit and it's getting me very exciting about developing a sock collection for next year. 
Two dresses I won't be without 
The first is our Cheesecloth Tunic Dress. So easy. So Comfortable. I would layer it with a polo neck and wear with chunky boots or with flats and a neck scarf.
The next looks a little sensible but it is so flattering and elegant, our Leaf Printed Dress - it is made from a butter crepe and falls beautifully. Great for Christmas Day. Add a little sparkle by introducing one of our sequin collars.
The Frill Skirt is probably one of my favourite Rae Feather pieces ever. I know that is a big shout but it really is. I've been wearing mine endlessly.
 The Diana Shirt - it's a winner and will take you anywhere.
Next up my two fav pieces of knitwear
All these pieces are timeless and season-less. You will wear them all year round. If you have any sizing queries, please just ask.
Lastly, with a little light at the end of the tunnel regarding travel restrictions, we have just launched a really edited Winter Sun section on the website. A few new pieces and some bargains.
Have a look and I wish you all a very very Sunday.
Rae xx